Santathon, Saturday, Dec 7th
December 07, 2019 03:00 PM until December 08, 2019 04:00 AM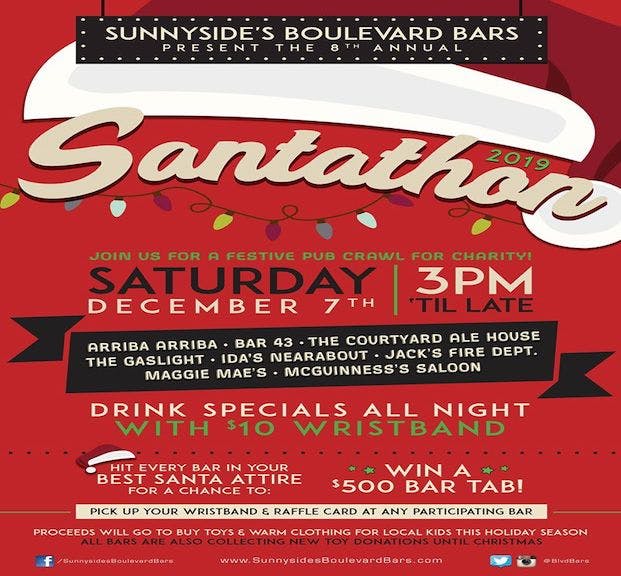 Santathon is coming to town on Saturday, December 7th!

Come out in your best Santa hat & attire and help us raise money for those who need it most this season with a festive pub crawl that celebrates the holiday spirit and our Sunnyside community.

Sunnyside's Boulevard Bars will be doing drink specials all night at all 8 bars with $10 wristbands. Pick up a raffle card with purchase of a wristband and get all 8 bars stamped throughout the night for a chance to win a $500 bar tab.

All bars will also be accepting new toy donations thru Christmas.

Last year's Santathon raised $3,500 that went toward buying toys and warm clothing for children most in need thru organizations like the Floating Hospital in LIC, Queen of Angels in Sunnyside, Hour Children in LIC, and the Block Institute in Brooklyn.

Sunnyside's Boulevard Bars are:

Jack's Fire Dept
Arriba Arriba Sunnyside
The Courtyard Ale House
Maggie Mae's Bar
Bar 43
Ida's Nearabout
Gaslight Bar
McGuinness's Saloon

Invite your friends & RSVP for updates!